Spring Cleaning Tips for Getting Rid of Pet Dander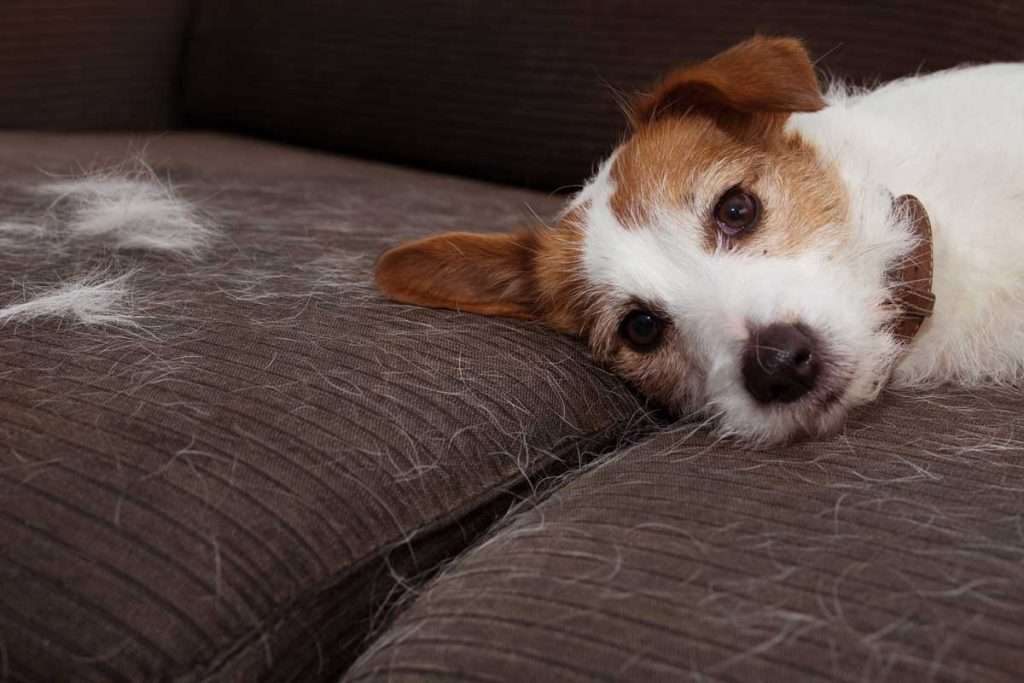 Spring is here, and there is no better time than right now to do some deep cleaning. With this spring cleaning guide for pet owners, we have customized a perfectly green way to clean your home, of pet dander, with your furry friend in mind.
As pet owners, we are used to cleaning up after them. Whether it's the shedding between the couch cushions or drool on the windows, cleaning up after your pet can feel like a full-time job. If you're wondering how to get rid of pet dander and fur, these simple green spring cleaning tips can help!
Before we dive into the cleaning tips, it's important to understand a bit more about properly cleaning pet dander and fur so that you're making sure it's removed as best possible from your house.
What is pet dander?
Pet dander is dried skin that's fallen off your animals. Animals with fur have dander, which is what people are most often allergic to when it comes to having pet allergies.
Does vacuuming remove pet dander?
You bet! Since the particles of dander or super tiny, a vacuum can be one of the best ways to get pet dander and fur out of your carpet. Dander isn't something we can typically see with the naked eye.
How long does it take to get rid of pet dander?
This is where the following cleaning tips are important. As long as you have a pet with fur, you're going to have pet dander in the house. However, actively cleaning certain areas will help to reduce the amount of pet dander and be able to keep it under control easier as well.
How to remove pet dander from carpets and upholstery
If you have a lot of carpet or area rugs in your home, a professional carpet cleaning every 12 – 18 months should be a major priority for you. It's time to think about doing a deep clean or shampoo of your carpet. Dirt, dander, urine, and pet hair can all get trapped into your carpet fibers, making them difficult to remove. You can take area rugs outside and shake them out or if your rug is machine washable, now is the time to do so. If not, thoroughly vacuum and spot clean them as needed. For a real spring clean of your carpet, especially wall-to-wall carpeting, we recommend having a professional come to clean the carpet.
Spring cleaning can be a tedious and time-consuming process, so make sure that you take some breaks and get outside with your furry friend, or take a break for some playtime. You'll both enjoy the fresh air and the chance to soak up some needed vitamin D.

Are you looking for ways to save money while getting help with cleaning up pet hair and pet dander removal? Check out this 3 room carpet cleaning special for $129!
7 Spring Cleaning Tips for Pet Owners
The following tips can help you reduce pet dander in your house and also clean up pet fur as well.
1. Air out the house
Whenever you start spring cleaning, open up the windows. There is nothing quite as lovely as having some fresh air to brighten your home and refresh it. If it's cold outside, try only opening your windows for 10 minutes; just having it open for a few minutes can still deodorize and replenish your soul.
2. Choose pet-safe cleaning products
Pet parents should be cautious about the types of cleaning products they're using around the house. Harsh chemicals and irritants can be toxic or cause allergic reactions for your furry companions. Before you break out the bleach and other harsh chemicals to get the job done, read the labels and see if it's pet friendly. Selecting a natural cleaning enzyme is great for cleaning pet and kid-friendly homes and is perfect for cleaning carpets, furniture, and all your pet's favorite places to curl up.
3. Tackle pet hair
As the weather warms up, your pet will start to shed its winter coat. This means it's the perfect time to tackle your pet hair dilemma! Despite more frequent brushing and grooming, pet hair gets everywhere. You can use rubber gloves to remove the hair for soft surfaces such as your curtains and upholstery. Add a little water over them and watch as the pet hair collects on them! You can even do this on your couch or bed.
4. Tackle pet stains and odors
Enzyme products are easy to use on pet stains and are highly effective to help eliminate pet odors from urine. Spray or blot them on the stain, and then follow the directions on your product of choice to help eliminate the stain once and for all! Make sure you cover the area with a wet cloth as sometimes it can take a few hours or days for the enzyme to do its job.
5. Wash pet beds and blankets
Toss all pet bedding, clothes, towels, and blankets into the washing machine. To disinfect, wash your pet bedding on the hottest water possible and add a cup of vinegar to the fabric softener bin. This will tackle odors and have your pet's bedding good as new in no time at all. If you have upholstery items that can't be washed, try spot cleaning them using an enzyme cleaner. It works great for removing odors, and you can scent it with your favorite pet-safe essential oils for added freshness.
6. Do a great job dusting
Even if you dust regularly, take some time this spring to tackle those out-of-the-way places where dust settles. This includes light fixtures, high shelves, ledge, fans, electronics, etc. "Out of sight, out of mind." is never more true than with cleaning! Start at the highest point when you're dusting and work left to right to make sure you're not dropping dust on areas you've already cleaned.
*Pro-tip: Microfiber clothes work wonders for dusting the TV, computer, and other electronics. We suggest tossing them in the wash before their first use.
7. Move furniture and other large objects
Get some help moving the furniture, and you may be shocked to find everything from your dog's favorite toys to a Q-Tip your cat decided to run away with one day. Move these larger staples in your home out of the way so you can clean up the pet hair and other "goodies" your pets may have left underneath them. This also allows you to redecorate and make it a whole new room!
*Pro-tip: Safely move heavy furniture out of the way by using sliders. They practical last forever, so your $10 invest will go a long way in preventing you from pulling out your back.
Are you and your fur-baby currently in the process of spring cleaning? We'd love to hear about your process. Share your tips and tricks for getting your home so fresh and so clean in the comments section. Happy cleaning!