DIY Vs. Professional Cleaning for Pet Stains: The Real Truth
Pets add a dose of happiness to our lives, but with them come a few challenges – one of them being pet stains on the carpet. Many of us resort to DIY cleaning methods, but are they as effective as professional carpet cleaning for pets? And can old pet urine stains still be effectively cleaned? This article aims to answer these questions and shed light on the pros and cons of DIY and professional carpet cleaning.
The Shortcomings of DIY Methods
Let's start with the most frequently asked question – "Can I clean pet stains on my carpet myself?" The short answer is yes, but it's not without its shortcomings. One common mistake many pet owners make when cleaning up pet stains is using vinegar or baking soda. While these might seem like effective and readily available cleaning agents, they often do more harm than good.
Vinegar and baking soda only mask the odor temporarily, which may encourage your pet to soil the same area again. The smell often returns once the masking effect wears off, sending you into a constant cycle of cleaning. Scrubbing, a method commonly used in DIY cleaning, can also push the stain deeper into the carpet fibers, exacerbating the problem.
Now you might be wondering – "What if the pet stains are old? Can they still be cleaned?" The answer is yes, but it may require a professional touch. Old urine stains are tricky as they seep deeper into the carpet over time. The good news is, no matter how old or set-in the stain, professional cleaning services can get them out effectively and efficiently.
The Advantages of a Professional Carpet Cleaning
So, what makes professional cleaning a better option? Professional cleaners use specialized tools and high-quality cleaning solutions to identify and treat pet stains effectively.
Moreover, with professional cleaning, you get to tackle stubborn stains that have been there for ages. DeoGerm, when applied multiple times, can effectively remove old pet urine stains and thoroughly deodorize the area. Professional services also help protect your carpets from future stains, extending their lifespan and potentially helping to extend the life of your carpets.
Another question that we often get asked is – "What methods do professionals use for cleaning pet stains?" Professional carpet cleaners follow specific, detailed cleaning processes. For instance, we provide a final walk-through to ensure complete customer satisfaction.
The Takeaway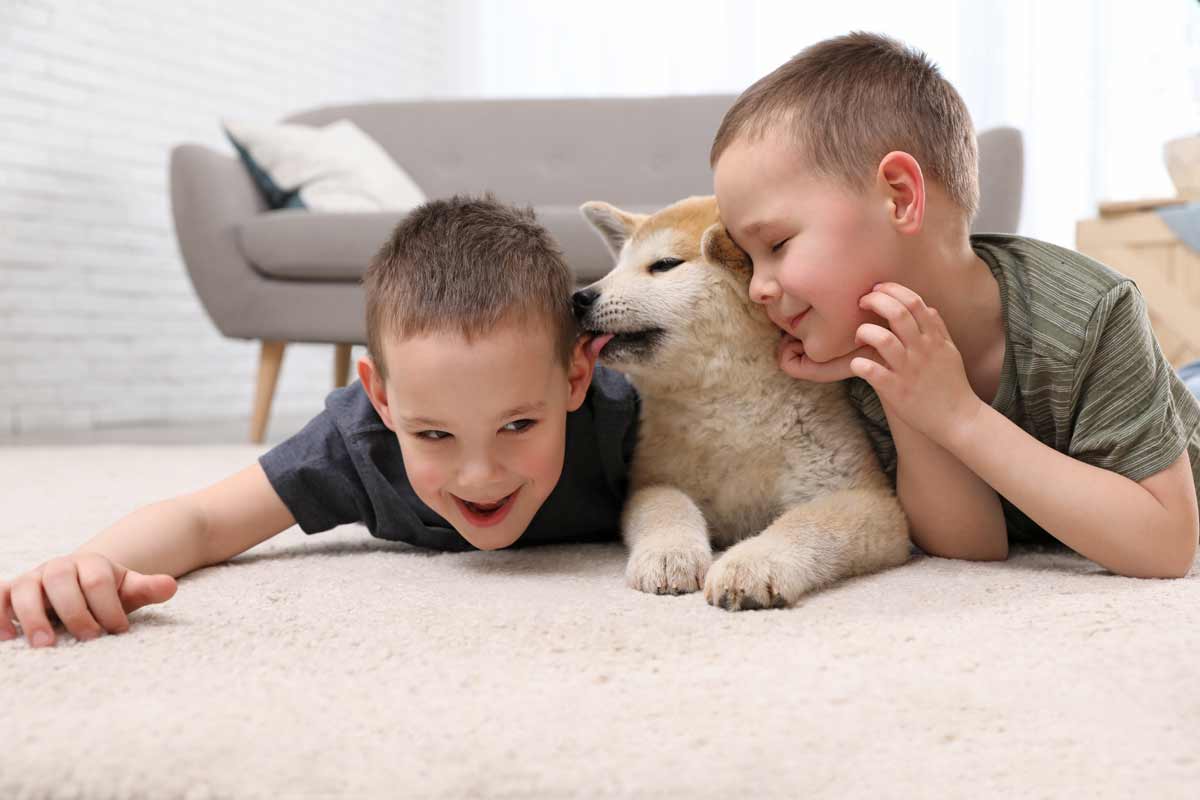 To sum it up, while DIY methods may offer a quick fix, professional carpet cleaning provides a comprehensive solution for pet stains and odors. By opting for professional services, you get to save time, prevent repetitive cleaning, and ensure a cleaner, healthier environment for you and your pet.
As Ruth Powers, a satisfied customer, noted: "My carpets look AMAZING!!! I have an older carpet with pet stains and high traffic areas… Robert removed all the pet stains… I would so recommend these guys and will definitely be using them again."
Eliminate the worry of pet stains and enjoy your home with your furry friends by choosing professional carpet cleaning services. Check out our carpet cleaning specials and schedule a carpet cleaning today through our online portal or by calling us at (855) 578-6344. We are proud to serve a wide area, just check out our service areas map to see if we cover your location.